The Nitty Gritty of Pottery Work: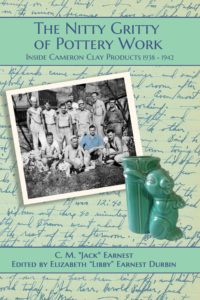 Inside Cameron Clay Products 1938-1942
by C. M. "Jack" Earnest
edited by Elizabeth "Libby" Earnest Durbin
212 pages: 6 x 9 inches
Illustrated with 13 historical photos
Paperback: ISBN: 978-1-945587-29-0
Price: $15 + $5 shipping
---
My father, Clarence M. "Jack" Earnest, worked at Cameron Clay Products, Cameron, West Virginia, for more than four years, from January 21, 1938 to April 8, 1942. He started out hustling ware and making lids, then casting ware, such as pack-mules, laughing hares, high-wing swans, and many other pieces. He quit because of his concern about how the workers were being treated and his worry that silica dust, always in the air at the pottery, might be damaging his lungs. Actually, a large brown spot on one lung contributed to his death from pneumonia in 1980 at the age of seventy-seven.
Jack never had the opportunities offered by a college education, but he had the instincts and habits of an historian. He recorded the details of his life with words in his daily diary and photographs he took with his pocket Kodak.
This account, in his own words, of every day he worked at the pottery—with his spelling, punctuation, and grammar—also includes parts of my father's diary of historical interest concerning the town of Cameron, and the world, and in some cases, accidents, deaths, and bits about his family.
To give an idea of the economic situation, I have left in some facts about the cost of groceries and the struggle to pay off the large debt my parents accumulated when there was no work to be had.                          —Elizabeth "Libby" Earnest Durbin, September 2018
---
Paperback books are available direct from the editor, Libby Durbin, at: ldbelle@embarqmail.com