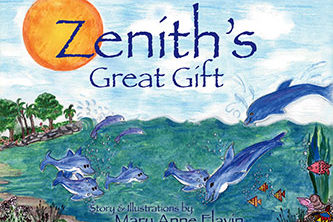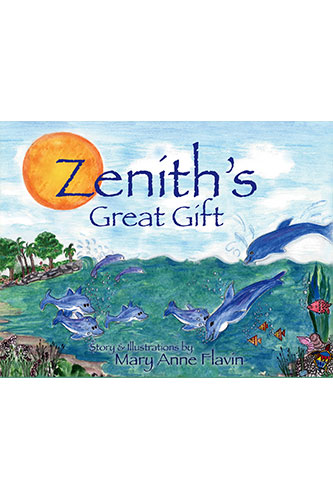 Zeniths Great Gift
a children's book written and illustrated by Mary Anne Flavin
36 pages; 11 x 8.5 inches (landscape)
Hardcover ISBN: 978-1-945587-11-5
Price: $19.50 & shipping
Zenith's Great Gift is a story for every child challenged by special needs—visible or not—and provides hope that their own challenges can evolve into gifts.
Zenith is a dolphin born without echolocation. Although Zenith wants to be useful, she is sad and lonely and fears her life will have no purpose because she is different. Then Zenith's father presents her with an opportunity where she can use her special abilities to help others. She meets sick children along the way and discovers that being born without echolocation was the best gift she could have ever received.
Author and illustrator, Mary Anne Flavin, was inspired to write Zenith's Great Gift after meeting a child ("Rica" in the book) who'd had two strokes before she was born. The strokes left her severely handicapped and dependent on her family for all her care. But this amazing child is irresistible. There is something special about her, a gift that makes everyone around her feel incredible joy. Ms. Flavin calls the gift her "love sensor."
Mary Anne Flavin holds a Master's degree in Organizational Behavior. She is actively retired and enjoys spending time with her husband and their three dogs, Reike, Shanti, and Einstein. She loves painting, writing, exercising, spending time with friends, and engaging in lively discussion groups on the Oregon Coast.