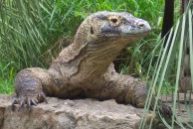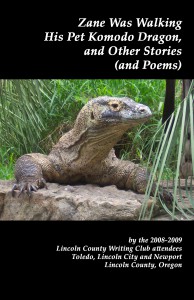 Zane Was Walking His Pet Komodo Dragon, and Other Stories (and Poems)
an anthology of student work from the 2008-2009 Lincoln County Writing Clubs of Toledo, Lincoln City, and Newport, Oregon
edited and photos of students by Carla Perry
84 pages; 8.5 x 5.5 inches
Price: $10 + $3 shipping
Under the leadership of Carla Perry, Writers On The Edge teamed up with the Lincoln County School District to create Writing Clubs for Lincoln County youth in an after-school program during the 2008-2009 school year. The program was funded by a 21st Century After-School Program Grant. The Writing Clubs meet in Toledo, Lincoln City, and Newport. They were open to all Lincoln County youth in grades Three through Eight, home-schooled students welcomed as well. Attendance was on a drop-in basis. Sessions were held once a week for four week every quarter. Because we met from 5:30 to 7:30 p.m., nutritious food was always available. No tuition or fees were charged. The Writing Clubs were free for students, their parents, and siblings because one goal of this project was to help create cross-generational connections and ongoing involvement of the entire family in writing activities.
The Writing Club instructors were Meg Groat, Robin Rhyner, Andrea Scharf, and Shawne Saunders. The Program Director, book designer, and photographer was Carla Perry of Dancing Moon Press, who is also the founder of Writers On The Edge.
Attendees in Toledo included: Parker Anderson and Paige Elizabeth Jeannette Soule. The Lincoln City Writing Club included: Eva Barten, Maria Estelle Barten, Morgan Bishop, Mikayla Blackstocks, Tinisha Cromwell, Kindra Gray, Trysta Henley, Ayala Irvin, William Irvin, Joanne Liu, Hailey Mooney, Katie Morfitt, Margery Price, Mary Sample, and Kat Sutton. The Newport Writing Club included: Sophia Goodwin-Rice, Taylor Marie Hayner, Alexis Kittel, Ronan Krutzikowsky, Cassie Lihou, Morgan Quady, Megan Simpson, and Maria Spores.