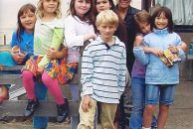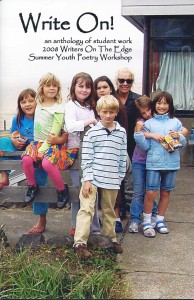 an anthology of student work from the 2008 Summer Youth Poetry Workshop
taught by Leanne Grabel
photos of students by Carla Perry
60 pages; 8.5 x 5.5 inches
Price: $10 + $3 shipping
Students attending this workshop came from Neskowin, Otis, Gleneden Beach, Newport, Seal Rock, and Toledo, Oregon. Participants included Maria Barten, Vera Boylen, Cheney Chrisman, Cassie Lihou, Javalah Makia, Kaprice McEntee, Kennedy McEntee, Margery Prie, Hailey Schones, Maria Spores, Kat Sutton, Jakob Spink, and Arabella White.
A seven-day workshop that met five hours a day for five days straight, followed by a half-day performance practice, and then a big night as the featured authors of the Nye Beach Writers' Series. All students received a full scholarship and a free Café Mundo lunch each workshop day.
"This past week, working with thirteen of your 7 to 10-year-olds, inches from the ocean, has been delightful, and exhausting, for all of us. The writers wrote about the ocean, of course, but also sculpted ocean observations into similes that captured the sound and smell of the ocean. They turned free, descriptive writing into pantoums (a form of Thai poetry). They personified colors and emotions. They walked through Newport, pencils and notebooks in hand, observing and recording tourists and locals. We practiced with a keyboard beat and a mic. Carla took hundreds of photos as we wrote and practiced performing the poems. We even did yoga every day." – Leanne Grabel.