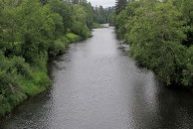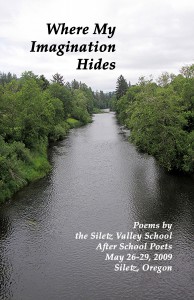 Where My Imagination Hides
poems by participants of the Siletz Valley School After-School Program
Workshop taught by Joanna Rose
May 26-29, 2009, Siletz, Oregon
Photographs of students by Carla Perry
64 pages; 8.5 x 5.5 inches
ISBN: 1-892076-16-0
Price: $10 + $3 shipping
Student participants from First through Third Grades: Daphne Brown, Austin Buckley, Autumn Buckley, Trevor Dickason, Nicole Dickason, Isaac Hansen, Atrreaux "Tre" Jackson, Alexandria Kaiser, Brendan Lal, Hunter Noble, Cheyenne Roberts, and Sierra Roberts.
Funding for this workshop was provided by the Confederated Tribes of the Siletz Indians Education Department under the auspices of Writers On The Edge. The program director, book designer, and photographer was Carla Perry of Dancing Moon Press, who is also the founder of Writers On The Edge.
"When I arrived at the Siletz School for the after-school program to write poems, the first thing the kids said was, We don't know how to write poems! But they know what their houses do while they are at school, and they know what their imaginations like to eat. They know what jelly beans sound like and they know the secret name of the river that lives in their town. They like funny words, and long words, and sometimes a word would spread like a little animal trying to make friends with everyone. By the end of the week I could say to them, Now you know. You CAN write a poem." — Joanna Rose.