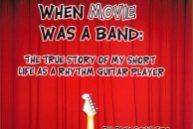 When 'Movie' Was A Band: The True Story of My Short Life as a Rhythm Guitar Player
by Rick Schultze
ISBN: 978-1-892076-50-2
Price: $12.00
Here we were, a bunch of long-haired guys in T-shirts and Levis stumbling around the stage, attempting to plug electrical equipment into the wall sockets and saying 'testing' over and over. But the drinks were cheap and the audience didn't seem to care. The party was just getting started.
Rick Schultze, freelance writer, humor columnist, and book and music reviewer for newspapers, magazines, and online sites, presents his story of playing in a rock and roll band and the obstacles they faced on the road to fame and fortune.
When 'Movie' was a Band is available on Amazon as a paperback and ebook.