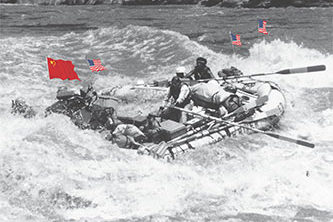 When Dreams and Fear CollideCover: Warren, When Dreams And Fear Collide
The true story of the 1986 Sino-USA Upper Yangtze Expedition
by Jan Warren
Illustrated with 104 photos and links to videos taken during the Expedition
Photo credits: Ancil Nance, Chen Qun, Barbara Reis, Dave Shippee
Film credits: Mutual of Omaha
404 pages: 6 x 9 inches
Paperback ISBN: 978-1-937493-59-2
Price: $20 + shipping
E-Book ISBN: 978-1-937493-37-0
Price: $8.99
The 1986 Sino USA Upper Yangtze River Expedition was not Ken and Jan Warren's first attempt to raft the Yangtze. In 1983, they believed they had permission from the Chinese authorities to organize an expedition to China. With six tons of equipment, river and film crews, and a payment of $150,000 for the permit, they entered China. They sat for one month in Chengdu, China, waiting to go forward. Without explanation, they were told to go home. Ken and Jan sent the crew home, but they traveled to Beijing in search of their lost money. They met with representatives of China Sports Service Company and came to an agreement for a 1984 expedition. At that point, the Warrens went home to organize. But because they could not raise the full $800,000 permit fee, the 1984 trip was cancelled. In 1985, they tried again to raise the funds, but again were unable to raise enough money to meet the terms of the agreement.
"When Dreams and Fears Collide: The true story of the 1986 Upper Yangtze River Expedition" picks up the story of their last attempt and their last chance to realize their great dream of rafting the Upper Yangtze River. This would be a first in joint ventures and joint efforts between the two countries, and would introduce the sport of whitewater rafting to China. Rafting from the source, at 17,400 feet elevation in the great Himalayan glaciers to the city of Yibin, the goal was to travel the 2,000 miles of uncharted water. But the death of a teammate, a so-called mutiny, and several all-Chinese rafting teams racing ahead of the expedition in an attempt to be first, turn a perfect trip into a voyage of drama, disaster and unexpected challenges. The rest of the expedition takes them through whitewater so huge, it is off the chart. Upon their return to the United States, Ken and Jan are propelled into controversy and a web of legal battles, including a wrongful death lawsuit that becomes bigger than the whitewater they encountered. The lawsuits and forced them into silence. But now, after twenty-five years of silence, Jan Warren goes on record with the only first-hand account of the risks taken in pursuit of this dream.
Mutual of Omaha's Spirit of Adventure DVD, "Challenging China's Yangtze," filmed during the 1986 Yangtze River Expedition, has been shown by ABC Sports, CBS, and ESPN and in over 20 countries.
---
Paperback copies are available direct from the author: mostprecious1@charter.net
eBooks are available through Amazon
Additional information: http://www.sino-usariverexpedition.com/1.html