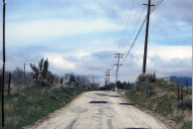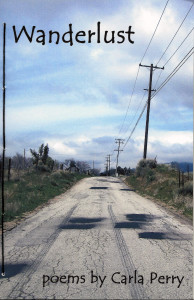 FootHills Publishing is pleased to announce the release of "Wanderlust" a collection of poems Cover: Perry, Wanderlustby Carla Perry. The book is a 72-page hand-sewn paperbook with spine. It includes 16 photos by the author. $16
Sample poem from the book:
Oregon Rain
The water whispered at first
and found me among the low mounds
of Kansas strip mines, living in drought
It padded alongside
as I scratched at the earth of Missouri
perspiring on parched soil
trying to be sensitive about hidden springs
as I peered into empty winter wells
In Iowa the water enticed, cajoled, then insisted
I dream about a land
where water fell from the sky
the sweet song of rain, a calypso of deluge
The melody of free water haunted my sleep
storm clouds came for me
survival, they said, we know where you live
follow us
and in my dreams I followed them home
back across the dry prairies of Kansas
and gold mines of Colorado
up into Wyoming
across the orange skies of Idaho
following the hint of dank
to the home of mold, fog, rust
this lovely water that falls for free
this rain that needed me
to feel it.
---
To read another sample poem, see a photo, read Carla's bio, or to order the book: http://foothillspublishing.com/2014/id76.htm
To order through the mail send $16 plus $2.50 Shipping and Handling to:
FootHills Publishing
PO Box 68
Kanona, NY 14856
FootHills Publishing
In our 29th Year!
www.foothillspublishing.com
"Never Stop Asking for Poems"