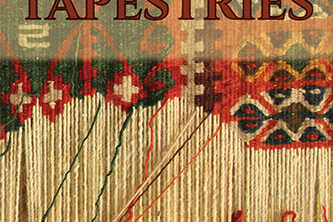 Unwoven TapestriesUnwoven Tapestries: poetry and prose by Mark Beckwith
poetry and prose by Mark Beckwith
Includes 15 black & white photos by the author
176 pages; 6 x 9 inches
Paperback ISBN: 978-1-945587-16-0
Price: $20 & shipping
Life is made up of threads. Threads of memory, threads of hope. Of thoughts, friends, and energy. And how each of us is taught. Everything we are, everything we think, everything we aspire to become… is a thread, not only in our lives, but connected and part of everyone and everything else. And taken into a bigger context, we are actually just patterns in an even greater weaving. Each facet of our life is woven into this world we call our reality. The sad part is, as we build this mosaic, we see only the patterns woven there. Life becomes small and self-repeating. We react the same way to whatever happens to us. We treat the people around us in a manner based on our perspective of those patterns. And just as sadly, we treat ourselves that way as well.
Thus the title of this book, Unwoven Tapestries. To look at my life completely naked. No protection from the woven patterns. An attempt to visualize reality as it actually is or as it might be, based on no patterns at all. To see the self as the universe it actually is… an attempt to be aware, without patterns. My quest is to find the simplicity on the far side of complexity. That single space where we exist, where everything exists without space and time. Enjoy!

Make a habit of
Making beautiful music in your head.
Because the last thing you hear
Before you die
Is your own thoughts.
MARK BECKWITH grew up in Oregon. His father worked for road construction companies at a time when the state's road infrastructure was being developed, which meant his family frequently moved to new job sites. By the time he was fourteen, Mark had lived in fourteen Oregon cities. After his parents divorced, Mark moved to Kansas with his mother so she could care for her parents. He attended high school in Kansas, and then enrolled at Fort Hays State University, majoring in elementary education. But just before graduating, he dropped out when he realized he did not have to become a teacher. Mark moved back to Oregon, attended Oregon State University in Corvallis, and completed a degree in journalism.
For sixteen years, Mark operated a foster home in Corvallis for teens and young adults who were autistic and behaviorally challenged. He also spent those years raising his daughter. Along his journey, he earned an MBA from Willamette University and a certificate in the practice of kiatsu. Mark is now a therapeutic musician and plays a variety of wooden Native American flutes and low Irish Whistles at the bedsides of hospice patients, and in local hospitals and cancer centers. Now a resident along the Oregon Coast, he currently lives aboard his sailboat awaiting the next adventures the universe will be sending his way. And perhaps he'll write something about them one day.
Unwoven Tapestries is available direct from the author: svkima@hotmail.com
This entry was posted in Catalog, Recent Releases and tagged commentary, photographs, poetry, spiritual on November 11, 2017.