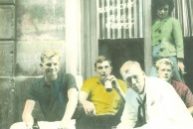 The Zoo: Playing War and Travel in Germany 1962 to 1965
a memoir by Win Jolley
ISBN: 978-1-937493-16-5 (eBook)
      Price: $3.99
ISBN: 978-1-937493-15-8 (paperback)
      Price: $14.95 + $4 shipping
My story is not about war, but about young men in the Army having fun playing war games and traveling while stationed in Germany during the Cold War—a time when the Viet Nam War was starting up on another continent. This is a true story and I have not changed names to protect anyone unless I could not remember a name, and in those cases, I just made one up to fit the circumstances.
The name of the book, The Zoo, comes from the twelve-man bay I lived in. One might say it had some reference to the animals that lived there, but we were all proud to be Zoo members. I start at end of the story and end it at the same place.
Paperback copies of The Zoo are available direct from the author: winjo1@winfinity.com
eBooks are available from Amazon, Barnes and Noble, Kobo, and Apple iTunes Bookstore.