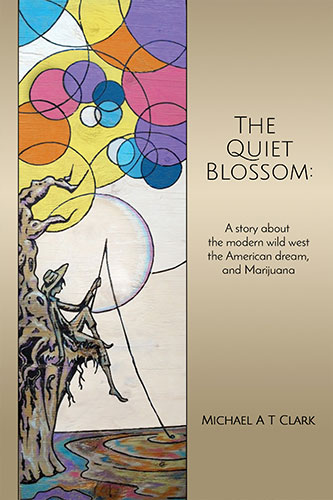 The Quiet Blossom"The Quiet Blossom" by Michael A T Clark; published by Dancing Moon Press
A story about the Modern Wild West, the American Dream, and Marijuana
by Michael A T Clark
326 pages; 6 x 9 inches
Paperback ISBN: 978-1-945587-30-6; Price: $20 + shipping
Ebook ISBN: 978-1-945587-23-8; Price: $15
In the hills of northern California, a small but significant subculture was born out of the rapid development of the medical marijuana industry. The community formed under the influence of necessary secrecy and resource abundance, yet it grew to become an impactful social movement that left a mark on the greater American society and, in fact, the world.
The Quiet Blossom paints a picture of the nascent culture as it experiences it's most glorious and promising years—before the decline that took place as rapidly as it grew.
The book follows a young man's experiences during the years he worked in the marijuana industry of Northern California. This is a personal narrative—part memoir and part ethnography—that reflects the cultural and social implications of the black market industry. And it captures a strange and wonderful moment in history.
Welcome to The Quiet Blossom.
My ardent wish is that the passion for change that grew and was nurtured during that time will find a way to continue expanding through other means, and that the work done will be carried into other communities and other environments by its countless progenitors. They are all still out there, and they have lived a dream. They carry with them the hope of a brighter tomorrow, and hope has a magical way of growing.
eBooks are available from Amazon: www.amazon.com/Quiet-Blossom
Paperback are available direct from the author at: michaelatclark85@gmail.com