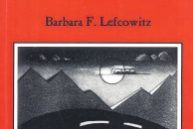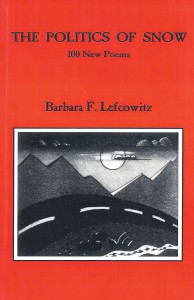 The Politics of Snow: 100 New Poems
by Barbara F. Lefcowitz
ISBN: 1-892076-11-X
Price: $12.00
Lefcowitz's seventh poetry collection, The Politics Of Snow, includes 100 new poems written over the past three years. Subject matter ranges from the Great Cosmic Yawn to the Library of Wildflowers, Josef Mengele to Joe DiMaggio, Andalusia to Warsaw to Brooklyn. Rich with imagery, many of these highly original poems are conceptual as well, with a focus on the mysteries of memory and challenges of modern science. Some are witty, some lyrical; all meld music with both the thought and deeply felt. Though the poems reach well beyond the limits of private experience, they are always accessible. Cover includes an original etching by the well-known printmaker Allan Kaneshiro of the Smithsonian Museum.
All poetry books available direct from the author: BLefcowitz@aol.com