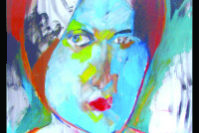 The Lyric Unveiled Cover: Orr, The Lyric Unveiled
by Verlena Orr
Front cover painting, "Christina Rossetti" by Rick Bartow
52 pages; 6 x 9 inches
Paperback ISBN : 978-1-892076-02-1
Price $15 + shipping ($4 Media Mail; $7 Priority)
Lyric
I'll dance with you
Across your dream, wear
My big old heart on my sleeve.
I'm looking for the dream
I had when I was young.
Now, I'm broken, unsteady.
Limping west
On Highway 99 with you
My only sunshine.
I see you in the shadows,
Believe I can wait forever
For one more dance, one more dream,
One more call.
This book is dedicated to Rick Bartow and the Backseat Drivers, who have informed my poems and kept me on the dance floor.
Verlena Orr is also the author of:
I Dance September Naked in a Dream (Howlet Press, 1989)
Woman Who Hears Voices (Future Tense Press, 1998)
One More Time from the Beginning (Stone City Press, 2007)
Break in the Cloud Cover (Howlet Press, 2005)
Taking it to the Limit (Dancing Moon Press, 2009)
Sky Settles Everything: The Wayne James Story (Film production; Music includes songs performed by Rick Bartow, 2000)
COPIES of "The Lyric Unveiled" is available through independent bookstores in Portland and Newport, Oregon, and direct from the author:
orr_verlenar@comcast.net
Paperback copies are also available on Amazon.com
The film, "Sky Settles Everything," is in the archives of the University of Utah. It is currently being re-edited for National Public Television.
This entry was posted in Catalog, Recent Releases and tagged poems, poetry on September 7, 2015.