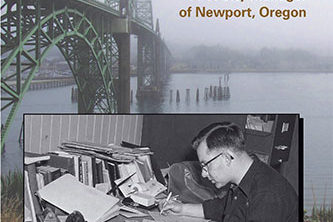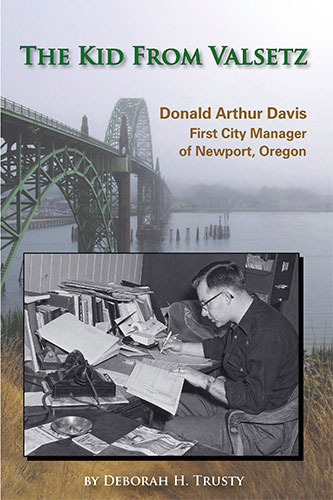 The Kid From Valsetz: Donald Arthur Davis, First City Manager of Newport, Oregon"The Kid From Valsetz: Donald Arthur Davis, First City Manager of Newport, Oregon" by Deborah Trusty, published by Dancing Moon Press
Second Edition: contains new chapter on Ann Davis
by Deborah H. Trusty
318 pages: 6 x 9 inches
Illustrated with 64 photos
Paperback: 978-1-945587-31-3 (second edition)
Price $18 + shipping
eBook: 978-1-937493-61-5; Price: $4.99 (first edition)
On October 1, 1962, the day Don showed up for his first day of work, no one had told the city's staff he'd been hired. Ernie Zurbuchen, the city recorder/municipal judge welcomed him with the challenge, "Who are you?"
"At my first council meeting," Don Davis explained, "I was told, 'We are passing two resolutions tonight. The first gives you the power to write checks, but there isn't any money. The other is that we are disbanding all our committees.'"
This book is primarily a chronology of the life of Donald Arthur Davis who was hired as Newport, Oregon's, first City Manager on October 1, 1962 and whose highest concern was always for the benefit of the people he served during his twenty-nine-year career. It is my hope that this book will also provide inspiration and guidance to upcoming generations of men and women who are called to community leadership positions. I've included insight into the motives and practices that made Don a beloved and sorely missed leader. Not only is this the true story of his life, it is a parable from which to glean meaning as we consider our future and the futures of our children and grandchildren.
The second edition was released in 2018. It includes one additional chapter and a new photo at the end of the book, in remembrance to Don's wife, Ann.
Deborah H. Trusty, a dedicated devotee to the concept of carpe diem, resides near the Oregon coast with Robert, her husband of 43 years. She recently accepted the position as the director of the Toledo Public Library where she happily spends her days among the books. She believes our stories are our greatest treasure.
Paperback books are available direct from the author: inthecottage@charter.net eBooks available through Amazon