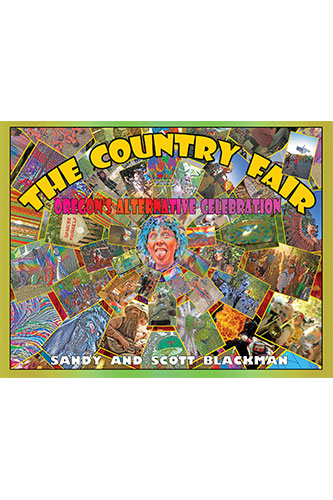 The Country Fair: Oregon's Alternative CelebrationThe Country Fair: Oregon's Alternative Celebration, by Sandy and Scott Blackman
by Sandy and Scott Blackman
Cover photography collage by Scott Blackman
100 pages of full color photographs taken over more than four decades
Paperback: ISBN: 978-1-945587-18-4
Price: $24 plus shipping
Sandy Blackman writes:
In The Country Fair: Oregon's Alternative Celebration, Scott and I have highlighted the Fair from our point of view as visitors. We've included other photographers' images and their recollections as well. We've interviewed Fair Family members, staff, and vendors. We consulted Suzi Prozanski's book, Fruit of the Sixties: The Founding of the Oregon Country Fair, reviewed the organization's historical materials from Fair Family News, The Peach Pit, the Fair's displays at the Elder's Still Living Room, and the History Gallery. We've also included the work of other photographers -– historians Paxton Hoag, Ann Goddard, Jeff Ouderkirk, and Brad Yazzolino — incorporating their vintage images and their recollections. Using these resources, we've compiled short summaries of the Fair's evolution over five decades, but we've only skimmed the surface. For a more in-depth history of the first ten years, we highly recommend you read Suzi Prozanski's book.
Ron and Robin Ulrich, and the parents of a small Eugene cooperative school called Children's House, organized the first Renaissance Faire as a fundraiser for the school. That Faire was held on November 1-2, 1969 at Robyn and John Milich's farm on Hawkins Lane in west Eugene. The festival featured handmade crafts and food. Two thousand people attended. Some of the crafters camped overnight, which is still a tradition. From the Faire's small beginnings in 1969, it has morphed into one of the most unique outdoor venues of its kind. It has faced numerous growing pains, and adapted through five decades. There were many challenges the Faire organizers faced in the earlier years: finding a permanent location and, eventually, a date; changing the name from the Renaissance Faire to the Oregon Country Fair due to a lawsuit; and advocating for and accepting alternative groups to participate in the Fair, including bikers. Purchasing wetlands along the Long Tom River close to Veneta brought new challenges: dealing with the concerns of local neighbors, the city of Veneta, and the county regarding regulations, demands on the roads, and the influx of visitors to the Faire as it was growing rapidly in popularity. As the Fair approaches its fiftieth year in July 2019, it continues to work towards healthy sustainability as an organization and event.
Sandy and Scott Blackman have been attending the Oregon Country Fair since 1972, and Scott has photographed it for more than 40 years. As visitors, the Blackmans have watched the Fair evolve from a small, quaint, hippy festival that started in 1969, into a top-notch event. It has become a heavily-attended, costume celebration in the forested wetlands of Veneta, Oregon, that is run by thousands of volunteers from around the United States. Sandy is a retired teacher and counselor for the Lincoln County School District. In retirement, she enjoys being a writer and storyteller. Scott has pursued his passion for photography most of his life, while employed as a landscaper and gardener. Scott's images are featured in magazines, calendars, books, and print media. The Blackmans first two books (Arcadia Publishing) covered Oregon's rich surfing history along the Central and North Coasts. Unless otherwise noted, all photographs in this book were taken by Scott Blackman.
The Country Fair: Oregon's Alternative Celebration is available direct from the authors: countryfair.blackman@outlook.com
Website: Oregon Country Fair Book: http://oregoncountryfairbook.com/
Facebook: https://www.facebook.com/Oregon-Country-Fair-Book-900464433363675/