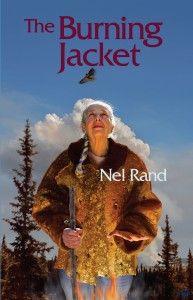 The Burning Jacket
by Nel Rand
ISBN: 978-1-892076-74-8
Price $15.00
The Burning Jacket is the story of 11-year-old RAYNIE who lives in Anaheim, California, with her mother MOLLY. Her best friend is a rescued desert tortoise named ERMA GEDDON. Molly, recently divorced from Raynie's father, owns a bakery but dreams of being a full-time visual artist. GRANNY TOOLEY, Molly's mother, is a squatter, living on forestland in the Oregon Coast Range, off the grid and far removed from modern society.
The three protagonists in The Burning Jacket struggle with personal challenges including homelessness, cancer, and ethnic intolerance, against the backdrop of the 9/11 attacks, wars in the Middle East, and the increasing threat of global warming. They stumble through chaos but emerge with tolerance and love for each other and themselves.
Copies of The Burning Jacket are available direct from nelrand.com.