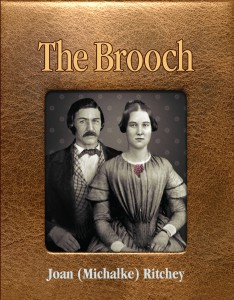 Riva Beside Me: New York City 1963-1966
a novel based on true life, by Carla Perry
336 pages: 8.5 x 5.5 inches
Paperback: 978-1-937493-08-0
Price: $20 + $4 shipping
eBook: 978-1-937493-05-9
Price: $6.99
The dark pink, multifaceted, sapphire brooch sparkles in the window of the pawn shop in Portland, Oregon. Franklin Adams is intrigued, not only by its beauty, but by the irresistible pull that draws him into the shop. He buys the pin for his wife, Johanna, and presents it to her for their fifth wedding anniversary. When Johanna opens the velvet box containing the brooch during a weekend trip to the Oregon Coast, she discovers an intriguing inscription etched on the back. Their search for the pin's previous owner is a mystery that ties in members of their extended family when they return to Saugerties, New York, for Christmas.
Paperbacks available direct from the author: rdilleyhs@comcast.net.
EBooks are available on Amazon, Barnes & Noble, Kobo, and the Apple iTunes Bookstore.