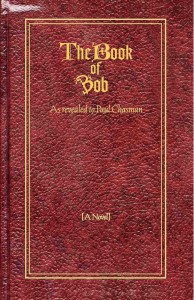 The Book of Bob: A novel
as revealed to Paul Chasman
ISBN-13: 978-1-892076-17-5
Price: $16.95
In the beginning, Bob didn't plan to start a religion, it just happened.
So begins the heroic journey of Bob, who on his 50th birthday finds himself wifeless, childless, and conversing with his dog. The plot is driven by a host of quirky characters: Bob, a blank slate living in the Northwest Region; 19-year-old Sophia Wise, whose life's goal is to cover her entire body with tattoos; Roland Brand, a chameleon whose ascension to power becomes progressively more outrageous; Lakshmi Jackson, Sophia's best friend who feels like a "kite without a string"; Ivan Bunt, a wheelchair-bound veteran, given to colorful declarations in a language all his own; Delbert Thorne, the Chosen Leader of the Free Nation who bears a striking resemblance to another world leader we know.