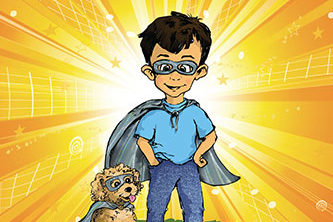 Super Heroes Are Super Kind Cover: Cleaver, Super Heroes Are Super Kind
Story by Kathy Cleaver
Illustrated by Sarah Gayle, Sarah Gayle Art
Spanish translation by Diana Pérez Moya
32 pages; 8.5 x 11.5 inches
Paperback ISBN : 978-1-937493-84-4
Price $8.99 + shipping
Ebook iSBN: 978-1-937493-85-1; Price: $6.99
Super Heroes Are Super Kind is a bilingual children's picture book about learning to make kind choices. A little boy named Ricky dreams of being a super hero.
Kindness Matters:
* Giving and receiving kindness increases a child's feelings of happiness and well-being
* Happier children are more likely to have higher academic achievement
* Kindness prevents bullying and increases children's popularity and acceptance among peers
PAPERBACK COPIES of "Super Heroes Are Super Kind" are available through http://superkindkids.com
and direct from the author: kcleaver@cablespeed.com
The eBook version will soon be available through AMAZON and iTunes.