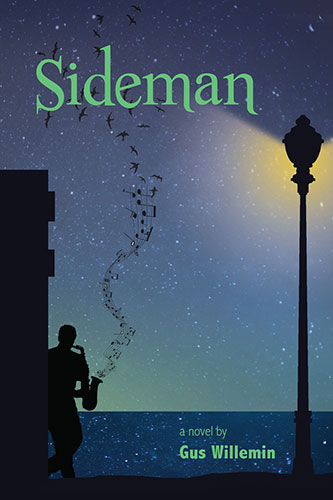 SidemanCover: Willemin, Sideman
a novel by Gus Willemin
248 pages: 5.5 x 8.5 inches
Paperback ISBN : 978-1-937493-71-4
Retail price: $16
eBook ISBN: 978-1-937493-72-1
Retail price: $5.99
"What's a sideman?" I asked.
"A musician with a level of proficiency high enough to sit in and play with others, whenever needed, for gigs and recording sessions. A good sideman can keep himself busy jobbing out his services. It pays the bills. That's me, Sideman."
Sideman's story is the struggle of a war veteran after he returns home and must face readjustment to a life after combat. Guilt, relationship issues, alcohol and drug abuse, and self-forgiveness are the issues he must deal with—or not. Walk awhile in his boots. Would you walk differently?
"I'm intrigued by the impact a sudden powerful, traumatic event can have on a seemingly, well-tuned person. I'm interested in knowing how random events can so dramatically influence the course of a life. I explore, ponder, and probe this issue in Sideman." –Gus Willemin
Gus Willemin began the first 17 years of his trip in New York City. There have been many stops along the way, some short; some lengthy, including San Diego and currently Newport, Oregon. Throughout the journey, he has compiled many titles, some short-lived, some not. Son, brother, husband, father, friend, Marine, student, teacher, counselor, musician, fisherman, inmate, classmate, in-law, and outlaw. He's dabbled in it all and mastered nothing. He has no regrets, and plans to stay put until asked to leave.
Paperback copies are available direct from the author's website: guswillemin.com
eBooks are available on Amazon: