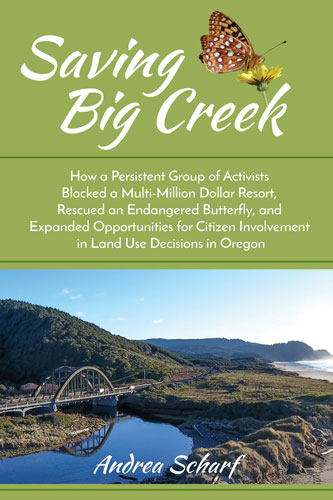 Saving Big Creek"Saving Big Creek" by Andrea Scharf, published by Dancing Moon Press
How a Persistent Group of Activists Blocked a Multi-Million Dollar Resort, Rescued an Endangered Butterfly, and Expanded Opportunities for Citizen Involvement in Land Use Decisions in Oregon
by Andrea Scharf
236 pages; 6 x 9 inches
Paperback: 978-1-945587-27-6; price: $16.95 plus shipping
Ebook: 978-1-945587-28-3; price: $9.99
In 1979, a developer from Honolulu bought 186 acres on both sides of a small creek on the Central Oregon Coast. His plans for "Big Creek Resort" included a lodge, rustic cabins, a trading post, and two houses for the future owner/managers. Over the years, plans for the resort expanded to include two hotels, a restaurant, a conference center, tennis courts, and individual residences.
Surrounded by National Forest, state parks and campgrounds, a proposed wilderness area, and miles of empty, wind-swept beaches, the property was home to elk, salmon and a small butterfly with toasty brown wings, which had just been listed as a threatened species under the Endangered Species Act.
Opposition to the resort—dismissed by the developer as coming from "a bunch of hippies"—developed quickly. Proving themselves more resourceful and persistent than the developer expected, the idealistic young activists continued their fight against the proposed destruction of a vital natural area for nearly forty years—through cycles of hope and defeat, and finally, a resolution that satisfied nearly everyone. The fight to save Big Creek will inspire all of us who struggle to make sure that people's voices are heard and that our irreplaceable natural world is protected.
Andrea Scharf has been writing since she was ten. She has an MFA in creative writing from Vermont College of Fine Arts, and has published short stories and articles on subjects ranging from the nutritional impact of dead salmon to the financial impact of a colliers' strike.
Her reading interests include fiction and nonfiction. She also writes a blog about what she reads, which can be found at https://andreasbookblog.wordpress.com/.
She has worked as a teacher, co-founder and manager of Portland's Saturday Market, as a small business entrepreneur, city planner, marketing director, and association manager, among other positions. Whether hiking in the Cascades or the Coast Range, exploring tide pools, or walking through an urban park, she is always attracted to the natural world. Since moving to the Oregon Coast, she has been active in protecting that world as founder and chair of View the Future, a nonprofit environmental advocacy organization. Andrea lives on the Yachats River, just beyond the fog zone.