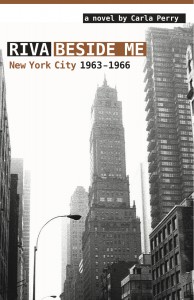 Riva Beside Me: New York City 1963-1966
a novel based on true life, by Carla Perry
336 pages: 8.5 x 5.5 inches
Paperback: 978-1-937493-08-0
Price: $20 + $4 shipping
eBook: 978-1-937493-05-9
Price: $6.99
Riva's guardian angel is a wisecracking cynic who would rather be anywhere than imprisoned in Riva's body. But assignments are not negotiable. The place is New York City. The time: Spring 1963.
Riva Beside Me is a novel based on real life, growing up in Manhattan in a dysfunctional family. But the story is one of transition and hope, where humor and love prevail. The story makes it obvious that angels walk among us. The book is a love letter to the real Richard Marvell, who lived at 45 Perry Street in Greenwich Village in the 1960s.
Riva Beside Me was featured in the Portland Oregonian's "New in the Northwest Column" on October 20, 2013.
Staged Readings from the novel have been performed to SRO crowds throughout Oregon in Portland, Toledo, Yachats, Manzanita, and in Newport. Response was so enthusiastic, a full screenplay script of the entire book was developed with a cast of five teenagers and three adults. The play's debut takes place at the Newport Performing Arts Center in March and April 2017.
————————————————————————-
"Not just a page-turner, but a show-stopper. I can't put it down, even when I have to." – Ed Cameron
"Perry manages, with her complex characterization and spare, well-toned evocative prose, to take her readers on a gut-wrenching ride from one end of the emotional spectrum (familial horror) to the other (glorious love and liberation)." – Leanne Grabel
"Riva is fantastic, original, heartbreaking and laugh-out-loud funny." — Nel Rand
"Beautiful love stories don't always end in boy gets girl, with a happy ending. This love story is about transformation." — Tom Chamberlin.
—————————————————————————————————-
Paperback copies of Riva Beside Me are available direct from the author by sending a check to: Carla Perry, P.O. Box 832, Newport, OR 97365. ($20 plus $4 shipping)
Email: carla@dancingmoonpress.com
Or order through this website via PayPal.
eBooks are available on Amazon, Barnes & Noble, Kobo, and the Apple iTunes Bookstore.