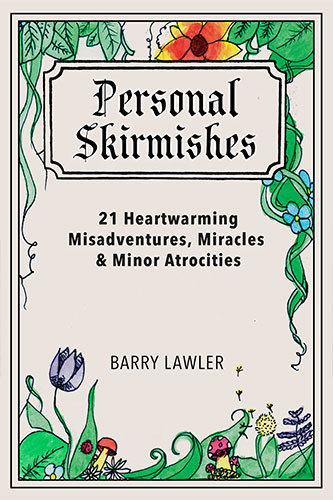 Personal Skirmishes: "Personal Skirmishes: 21 Heartwarming Misadventures, Miracles, and Minor Atrocities" by Barry Lawler, published by Dancing Moon Press
21 Heartwarming Misadventures, Miracles,
and Minor Atrocities
Short stories (and one novella) by Barry Lawler
280 pages; 6 x 9 inches
Paperback ISBN: 978-1-945587-12-2
Welcome to Personal Skirmishes . . . and special thanks for stopping here. I like to think some of the stories will meet your expectations. And I'll be ah-shucks amazed if you love them all. Either way, though, as the saying goes, 'There's no accounting for taste–yours or mine. It all depends on what you're looking for.
You will find a healthy range of plots, places, questionable humor, and even the occasionally relevant topic. After all, the 21 stories cover better than 50 years of my 70+, and though I can't claim in real life to have led a headline- stopping exotic existence, I have maintained an active imagination limited by few serious filters.
There's no common denominator to the stories beyond the alphabet and a predisposition toward whimsy rather than serious explorations of the "human condition" featuring characters dramatizing the harsh and heartfelt realities of modern life, or conversely finding themselves endowed with super powers and/or ample explosives to resolve even the most improbable plot conflicts.
The earliest stories date from the late 1960s, though every decade since then (up to, and including, last Tuesday) is represented. The struggle in my early years was resisting the urging of my fiction writing prof & mentor, John Hermann, to live up to his expectations for me as a student of "serious fiction." Not that I doubted I could have, simply that my predisposition for non-sequitur and humor refused to cooperate. Still, I did give serious stuff the "old college try" in one handful of stories, though you will find they are strategically counterbalanced by another handful that is anything but.
After reading a novel by Jack Kerouac, Truman's Capote's response to his contemporary was, "That's not writing, only typing."
Because I have been a lousy typist for 50 of my more than 70 years, but have managed to put thousands of words on paper, I like to imagine I'm a writer by default. If not, I've just been wasting a lot of time and stationery. Still, it's kept me entertained. And playing God on paper has convinced me of the range of interactions and situational ironies humans are capable of putting themselves in.
For the most part, though, when writing (or typing fiction), "exploring the human condition" is seldom a priority, as I'm pretty sure it can muddle along just fine without my intervention. Mostly, I'm just out for a good time. And if mine makes your better, too, we've both won.