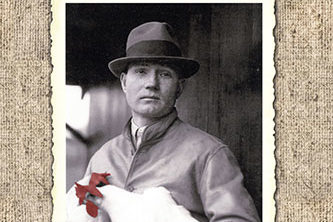 Mostly True Stories And Other LiesCover: Ritchey, Mostly True Stories
280 pages: 6 x 9 inches
includes 36 historical photos & artwork, plus an Index of names
Paperback ISBN : 978-1-937493-78-3
Price $20.00 + shipping ($5.75 Media Mail; $7 Priority)
Ebook iSBN: 978-1-937493-79-0
Price: $9.99
"The mostly true stories in the first section of this book are reasonably accurate, although in several cases the truth has been rubber-banded. Interspersed are short stories composed entirely of lies. Plus, I've sprinkled in a few poems because poetry slows us down, forcing us to take time to ponder. Pondering seems to be in short supply these days.
"Section 2, 'Three to A Hill,' is about my uncle Dwight L. McCue because his life story simply had to be told. Uncle Dwight was born in 1903 and lived almost to the 21st century, passing away in 1999. And when I say lived, I really mean it. Uncle Dwight had more gifts than most folks. Everything he did was done with gusto.
"Section 3 includes stories, poems, excerpts, and illustrations by a few of my deceased relatives: W. Howard Hamm, Bill Stucker, and Richard L. Ramsell. Perhaps writing runs in families. –Roger G. Ritchey
Roger is also the author of:
"Hankering For The Way It Was: Mostly true stories" (Dancing Moon Press, 2013)
PAPERBACK COPIES of all Roger Ritchey's books are available direct from the author:
ROGER G. RITCHEY
3005 NE East Devils Lake Road
Otis, OR 97368
541-994-5739
rlakehs@charter.net
The eBook version of "Mostly True Stories And Other Lies"
is available through AMAZON and iTunes Connect.