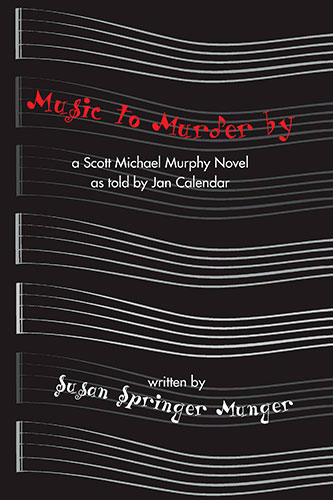 Music to Murder byCover: Munger, Music to Murder by
a Scott Michael Murphy Novel
(as told by Jan Calendar)
by Susan Springer Munger
224 pages: 5.5 x 8.5 inches
Paperback: 978-1-937493-41-7; Price: $13
eBook: 978-1-937493-42-4; Price: $3.99
"I jumped like I'd been bit by a snake when I plugged my new phone into the jack and it immediately started ringing! I emitted a startled little yelp as I quickly withdrew my fingers from the electronic fangs. Who knew I was back in town, much less my new phone number? Hell, I hadn't even memorized the number myself yet."
Jan Calendar, middle-school chum of Scott Michael Murphy, has come home to his roots. Roots being Arlington, Virginia, where he grew up, sort of, and got into lots of little scrapes with Murphy.
Now, in their middle-age-(plus) years, Calendar and Murphy reunite and find themselves in even bigger scrapes, beginning with the musical fundraiser for the police cadet program, during which a major donor is shot right in the middle of — oh, but, you'll have to find that out for yourself.
The worst part is that Murphy was just getting ready to sing! His first public performance!
Murphy, Calendar, and their old friend, ex-police chief Lurleen Maxwell, will have to deal with this pesky murder thing before Murphy gets another chance to debut his vocal chords. Does he? Do they? Stranger things have happened. And some do.
Ebooks available through Amazon
Paperback copies and additional information: 2mungers (@) gmail.com