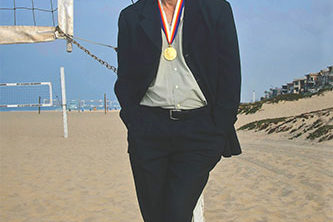 Life, The Spiritual Sport Cover: Root, Life The Spiritual Sport
a memoir by Jon Root
356 pages; 6 x 9 inches
Paperback: 978-1-937493-52-3; Price: $22 + $4 Media Mail; $6 Priority
eBook: 978-1-937493-53-0; Price: $7.99
"My struggles after losing everything I had were the genesis of this book. I'd gone along laughing, playing, and hammering through the straits at full speed, but my ship hit an iceberg in 2005. Listing and tilting, that ship sank five years later. All that remained was a tiny lifeboat packed with a few basic provisions, floating towards no particular island. I had no choice but to rebuild my life from the inside out. Being awarded an Olympic Gold medal in Seoul, South Korea, in 1988 had been rewarding, exhilarating, and defining, but my destructive choices in the years that followed pushed me into a profound transformation. I had to address mental, emotional, physical, and energetic issues in order to heal. Finally, what emerged was a breakthrough into a forgotten fifth realm — the Heart. My story, presented here in Life, The Spiritual Sport, is a tale where metaphor and manifesto are woven and quilted. The journey culminates in "Platform 14," a guide to living in balance, enacting change, and maximizing performance. At the heart of all matter is the evolving art of crafting our own happiness and Joy." – Jon Root
_______
Jon Edward Root is a former American volleyball player and Olympic Gold Medalist. He was a member of the United States men's National Volleyball Team that won the 1986 World Championships in Paris, France, and the 1988 Summer Olympics in Seoul, South Korea. As a southern California native growing up in West Los Angeles, Jon attended Loyola High, then Stanford University where his volleyball career earned him multiple All America honors and a 2003 induction into the Stanford Athletics Hall of Fame.
A spiritualist, urban hippie, sports coach, animal lover, teacher, preacher and screecher of all things mystical, magical, and mindful, Jon lives and works in Northern California as a Development Consultant focusing on performance and transformational coaching for young athletes, adults, and professionals. Further information about his platforms and programs can be found on www.jonroot.net. Follow him on Twitter at NowWhatJR.
Paperbacks available from the author at: jon@jonroot.net.
Ebooks available through Amazon.