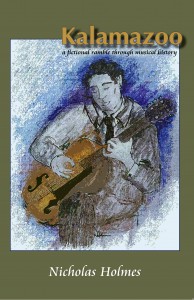 Kalamazoo: A Fictional Ramble through Musical History
by Nicholas Holmes
248 pages: 8.5 (tall) x 5.5 (wide) inches
ISBN Paperback: 978-1-937493-19-6
Price: $14.95 + shipping
[$4 Media Mail; $5.50 Priority]
Nicholas Holmes is a roots style singer/songwriter who lives in Eugene, Oregon, with his wife Roxanna, who is also a musician. They enjoy fiddling around together.
Also a sculptor, potter and artist, Nicholas delights in the joy of creativity. This is his first foray into writing and he picked the musical, historical genre because he is so comfortable with it. He has many instruments, but his favorite is the 1938 Gibson-built Kalamazoo that inspired this story.
Kalamazoo is available direct from the author: kniknik@msn.com.