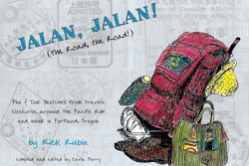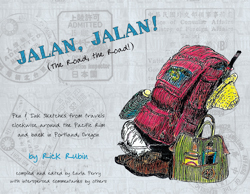 Jalan, Jalan! The Road, The Road!
Pen & ink sketches from travels clockwise around the Pacific Rim and back in Portland, Oregon
by Rick Rubin
compiled & edited by Carla Perry
ISBN-13: 978-1-892076-90-8
Price: $14.95
Rick Rubin, a noted Portland writer, had no formal art training before buying his first sketch pad in Maui, which is where this volume begins. Rick is He Who Watches And Tells The Story of How It Was (in line art and writing.) Note that "Jalan!" means "The Road!" in Balinese.
Available from Charlotte Rubin: charubina@gmail.com
"I'm looking for a boat heading south &/or west, toward New Zealand or even beyond. Though not an old salt, I've crewed a long cruise, can handle my watches, helm, wash dishes, cook, help change the sails and share in the expenses. I'd leave a book of sketches of the journey as my contribution to the adventure, samples on request. I'm 45, from Oregon, steady and reliable, will haul my weight. Contact Rick Rubin c/o Gen Delivery, Lahaina."
—From Rick's 1976 sketchbook