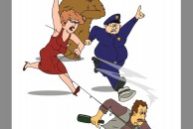 In The Foglane: Stories of drunks, gyppo loggers and fly fishermen
by Keith Topping
ISBN: 978-1-892076-57-1
Price: $10.00
For those unfamiliar with the term "foglane" I'm referring to the white line that runs along the road on the passenger side of a vehicle. Once you cross that line, you're in the foglane. Keep going and you're in the ditch. After all these years, I've opted to hug the center line. Life is not nearly as interesting, but boy does it save a lot of grief.
For nearly 20 years Keith Topping was a photo/journalist for the Coos Bay World, spending one year in Southeast Asia, then went into radio and newspaper advertising, became a logger, then owned a secondhand store in Roseburg. He now manages a small RV park where he continues to meet interesting people and never tires of a good story.