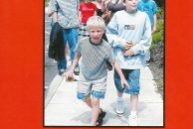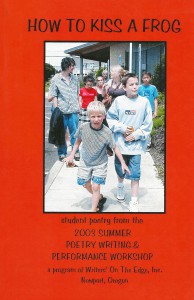 How To Kiss A Frog
student poetry from the 2003 Summer Poetry & Performance Workshop
photos of students by Carla Perry
108 pages; 8.5 x 5.5 inches
ISBN: 1-892076-11-X
(sold out)
Thirteen people, aged 7 through 17 participated in summer writing workshop that met four hours a day, twice a week, for four weeks, in July 2003. The primary teachers were Carla Perry and Scott Rosin, with two special instructors brought in for one day each: Jim Dodge, director of Creative Writing at Humboldt State University in Arcata, California; and Carl Hanni, a well-seasoned performance poet and a former member of the Portland Slam team who now resides in Bisbee, Arizona. Each participant learned to write poetry and the difference between reading poetry out loud and performing it. The workshop culminated in a public performance—the students as featured writers at the August Nye Beach Writers' Series. Each student's best work appears in this anthology, along with photos of the students taken by Carla Perry. Copies of this anthology were distributed the night of their performance.
All students received a full scholarship and a free Café Mundo lunch each workshop day.
 The 13 poets are include: Tanya Davis, Dana Fleck, Zach Goetz, Genevieve Gray, Jessica Jackson, Alyosha Kostrikin, Kolya Kostrikin, Ashley Lowe, Christina Mason, Codi Smith, Sierra Sperling, Deynie Sutton, and William Sutton. Their work is astounding.