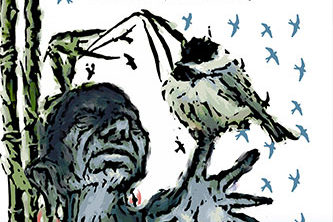 Hip Hop Aesop Cover: Fleming, Hip Hop Aesop
fables by James Fleming
20 illustrations by J. Scott Fleming
88 pages; 6 x 9 inches
Paperback ISBN: 978-1-937493-95-0
Price: $18 + shipping ($5.75 Media Mail; $7 Priority)
We know fables mostly as those morality stories going back to a 550 BCE Greek slave named Aesop. We still admire them as a source of human-nature wisdom. They were once used to induce good behavior in children. Cautionary tales today come in the form of medicinal side-effect warnings.
Our book is meant to be in the Aesop tradition. It may lack the moral instruction, but it relies on the same animal wit and wisdom. We hope we have followed the Aesop rule of "being useful to life and true to nature." Aesop lived about the same time as the Buddha, so we like to think of our stories as Zen-like, if they're like anything.
We think of the book's artwork as more inspiration than illustration. It speaks for itself and goes its own way with the fables which were written first and then sent to Scott to do what he would with them. It's called artistic license in some places. We think this lack of collaboration helped fable and image to each speak in its own language.
                                                                                                                            –James Fleming, 2016
---
The Philosopher and the Chickadee
The philosopher scattered grains of wisdom
Abroad for his local birds.
The finch and the siskin ignored them,
But the chickadee thought, Why not?
The philosopher saw her later by the pond.
"I was infused with knowledge," she said,
"About the world and beyond,
But I couldn't fly."
---
Paperback copies of this book are available:
direct from the author: James Fleming: oswegojimmy@gmail.com
and from the illustrator: J. Scott Fleming: sflemingaia@aol.com

As well as through www.amazon.com
or ordered through independent book sellers
---
JAMES FLEMING: This page does not have enough space to list all the jobs I've quit or been fired from, although I did stick with the last job for thirty years as a Portland Police Bureau cop. Now I'm retired from that one. I fancy myself a knock-about poet, and have finessed poems into numerous literary magazines. I published three books of them when they began to take up too much room on my hard drive. I live in Lake Oswego with Geranna, who is the real family poet. When nephew Scott and I decided to pool our talents for a book, I had forgotten how much talent he had. Now I can brag about being in the same gene pool.
J. SCOTT FLEMING: is an architect and artist. An Oregon native, he spent the majority of his architectural practice time in San Diego. Painting, drawing, and illustration have always been his passion and he's thoroughly enjoyed this first book collaboration with his Uncle Jim. Scott lives in Berkeley, California, with his wife, dog, and cat.
———————-