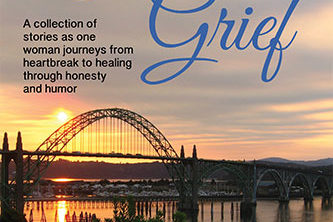 Good Grief: A collection of stories as one woman journeys from
heartbreak to healing through honesty and humorLippman-Cover-Front-RGB
306 pages: 6 x 9 inches
41 color photos
Paperback ISBN: 978-1-937493-97-4
Price: $16.95 + shipping
Ebook ISBN: 978-1-937493-98-1
Price: $6.99
My husband, Burt, nagged me for years to put my writings into book form, but tackling such a daunting task was never on my bucket list. It took his sudden death to put my grief into words in a weekly human-interest column that began in 1985 for the Newport, Oregon, News-Times. Mail started pouring in from readers who had also lost a loved one and the common thread was, "Thank you for writing about your grief. I no longer feel so alone." It dawned on me that this book needed to happen, that my open, raw honesty might help others in their own grief journey.
I know Burt is watching, smiling, and saying, "You go, Babe!"
---
"Bobbie, I am sure you get mail thanking you for writing about your precious husband and your walk now without him. This is my first Easter Sunday without my husband. We were married 50 years. Not long ago, a friend told me to start reading your column and it made me realize I am not as alone as I think I am in my unbearable grief. Thank you for sharing your feelings, even though you can't possibly realize how many people's lives you have touched." –Sally Baker, South Beach
---
Grieving people have the right to do whatever feels comforting at the time, no matter how bizarre or quirky, and no one—absolutely no one—has the right to tell a grieving person to "Get over it already!

---
Paperback copies and eBooks are also available through Amazon.
"Good Grief" paperback
"Good Grief" ebook

In NEWPORT, OREGON the book is available at:
The Nye Beach Book House: 727 NW 3rd Street
Canyon Way Bookstore and Restaurant: 1216 Canyon Way
Illingsworth's: 735 NW Beach Drive
and at JC Market: 107 N. Coast Highway
The book can also be ordered through independent booksellers.
---
BOBBIE LIPPMAN has been a professional writer since 1977 when her first story sold to the Los Angeles Times. That story was about the pain of losing her home and dogs in a major California fire. Since then, her work appeared in numerous national newspapers, a woman's magazine in the United Kingdom, the Beijing, China, World of English, plus several Chicken Soup for the Soul volumes.
Bobbie hosted a radio show for several years called "Bobbie's Beat On The Air" for the visually impaired, starting when her mother lost her sight, and began listening to the Radio Talking-Book Network. These short human-interest programs aired in the Midwest, and then at a radio station in Portland, Oregon, serving the blind. The radio program segued into a show aired on KNPT radio in Newport, Oregon, which attracted a large audience of the blind as well as sighted people. Bobbie also taught Creative Writing at Oregon Coast Community College.
She lives in Seal Rock, Oregon, with her cat, Keeper, and Waldo her robot (Lap Sitter finally had to leave for cat heaven). Bobbie can be reached at: bobbisbeat@aol.com