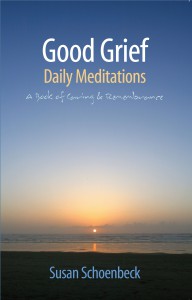 Good Grief: Daily Meditations
A Book of Caring and Remembrance
by Susan Schoenbeck
ISBN: 978-1-892076-84-7
Price: $11.95
A third of all adult Americans know the pain of losing a parent, child, brother or sister. Author and nurse Susan Schoenbeck acknowledges the pain we suffer when a loved one dies, and shows us how to move beyond acceptance of the death to a place where we can communicate with our lost loved one, keeping the relationship alive. In Good Grief: Daily Meditations, Schoenbeck shares selected passages designed to be read one day at a time, helping those left behind make it through their first year of grieving.
Sales & distribution information can be found on Susan L. Schoenbeck's website: www.susanschoenbeck.com
"Good Grief: Daily Meditations is an important book. It is also a healing book and God knows we need more of those." — Kent Nerburn, author of 12 books on spirituality and Native themes.