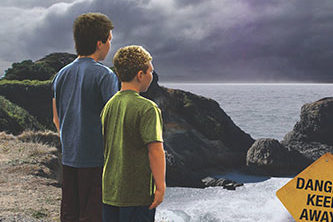 Going To Ocean Shores: a Danny Lawson adventure Cover: Covey, Going to Ocean Shores
by Gary Covey
228 pages: 5.5 x 8.5 inches
Paperback ISBN: 978-1-937493-73-8
Retail price: $11 + $4 shipping
An excerpt from Chapter 1––Up to the Cemetery!
The moon popped up above the rugged ridge overlooking Ash Hollow. Danny listened as two coyotes barked back and forth across the canyon. He had hated it when the family moved to this small eastern Oregon town during Christmas vacation. He remembered complaining over and over about living in the middle of nowhere . . . out in the sticks and down in a gully!
But now Danny had new friends. And he loved all the desert creatures and the wild sounds they made. Especially rattlesnakes when they shook their tails. And those howling coyotes.
"One more shot," Danny said. "It's almost time for my dad's barbequed burgers."
Buck nodded as he dribbled the ball twice and rifled a one-handed pass down the sidelines  towards a streaking Danny––the playground now glowing from a full moon that looked like a giant cheese ball drifting across the sky.
Suddenly Danny pulled up short, the ball bouncing aimlessly away. "What the heck!" he blurted. He'd caught a glimpse of a dark figure crouched over and heading straight for him.
Danny knew that jerky trot, the way the mysterious dark figure moved across the field. No flowing black cape like he'd worn during that huge thunderstorm when Danny first moved to Ash Hollow.
There was no doubt. It was Hank! . . . .
---
An excerpt from the Author's Note:
I would like to extend a special recognition to the Oregon Coast Aquarium, the Hatfield Marine Science Center, and the Yaquina Head Outstanding Natural Area, including the Yaquina Head Lighthouse, the Interpretive Center, and nearby tide pools. These sites, located along the Central Oregon Coast at Newport, provide a wealth of on-going educational opportunities for children and adults of all ages.
---
Earlier book by Gary Covey:
"Coming To Ash Hollow – the first Danny Lawson adventure"

Paperback copies of both books are available direct from the author: garycovey.com