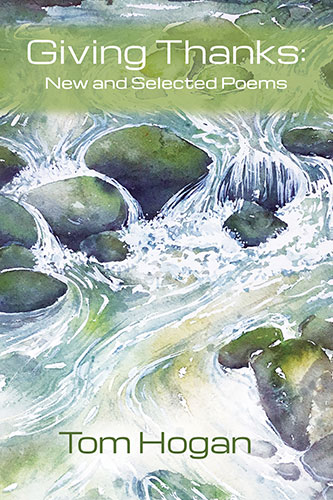 Giving Thanks: New And Selected Poems"Giving Thanks: New And Selected Poems" by Tom Hogan, published by Dancing Moon Press
by Tom Hogan
208 pages; 6 x 9 inches
Paperback: 978-1-945587-25-2
Price: $15 + shipping
Giving Thanks is the record of a pilgrim, a seeker engaged in the "hard work" of becoming—day by day, moment by moment—a more appreciative, more compassionate person. In one poem, Tom Hogan asks himself, "How can I be grateful enough?" Time and time again, his poems answer that question. Hogan's collection responds—with piety and humility—to a world in which "It always seems/ like/ we're asked to give more/ than we receive/ until it becomes an act of respect/ and finally love." —Paulann Petersen, Oregon Poet Laureate Emerita
Recognizing that a reliance on yesterday's answers may result in a too-easy certainty, Tom Hogan's poems record and interrogate the world he finds—a world of friendships, family, landscape, promises, memory, public engagement, and private delight. Page by page, Hogan's sense of the sacred and its big questions are never far distant. But it is Tom's patience, his curiosity and keen observation that most strike me. His thoughtfulness and welcome combine to make a large embrace. To open this book is a reader's good luck.
—Lex Runciman
TOM HOGAN was born in Portland, Oregon, and raised in the Portland area. He is the author of five chapbooks of poetry: Poems for the Journey (2001), Main Roads and Byways (2005), Texas Dawning (Fir Tree Press, 2006), Clouds and Water (Fir Tree Press, 2007), and Cathedral Rock (Fir Tree Press, 2008).
His first book of poetry, The Promise of the Trail, was published by Dancing Moon Press in October 2014. This new book, Giving Thanks: New and Selected Poems, was published by Dancing Moon Press as well, in 2018. He directs the Milwaukie Poetry Series in Milwaukie, Oregon, currently in its twelfth season.
Tom is trained as a Social Worker and has a part-time private practice as an LCSW. He has a B.A. in Liberal Arts from the University of Portland (1964), an M.A. in history from the University of Oregon (1966), and an M.S.W. from Portland State University (1969). He is also a hiker and backpacker and has been working on the Pacific Crest Trail, among other destinations, for some time. He finished hiking the Oregon portion of the trail, and has five sections left in Washington.
Paperback books are available direct from the author at: tomhogan2@comcast.net