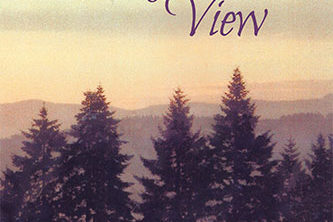 From City Lights To Majestic View"From City Lights To Majestic View" by deb darr, a memoir of country living
by deb darr
Includes five pages of color photos & illustrations
126 pages; 6 x 9 inches
Paperback ISBN: 978-1-945587-15-3
Price: $20 & shipping
Where shall I begin this story? Most books start out with a catchy little phrase, but this is a true story about a couple who wanted something more from life. They wanted the type of life that many only dream about. I know right away you might be thinking they wanted more in a material sense. That was NOT the case with this couple. They wanted to dream of things THEY could accomplish. This dream of theirs would mean sacrifice. Going without many every day things most people are accustom to having. It meant they would not have anyone to run to when things were tough, and believe me, things did get tough.
From City Lights To Majestic View is about a step out in faith. Not just a belief in God, although he was definitely walking very close, but a step in faith in themselves and each other.
I am very happy to share this story with you. I hope as you read it you will smile and maybe even laugh out loud at times. Perhaps you might cry, too. We have grown so very much since we first stepped into our rural world, yet as I look back I cannot think of how our life could ever have been any different.
——————-
deb darr  has worn many hats. Retail Comp Operator, Retail Garden Staff Member, Emergency Room Tech, Librarian, Columnist, Writer, 4-H Leader, Small Animal Judge, Wife, Mother, Grandmother, Volunteer.
deb and her husband, Greg, always hoped to own land on which they could have a nice garden and some livestock so they could be less dependent on grocery stores, and more dependent on themselves. The couple lived in the Bay Area and didn't know squat about rural living. Yet deb had visions of happy, dirty-faced children, and open spaces. She held tight to her dream and finally it became a reality.
The Greg Darrs entered into the world of rural living with both sets of eyes shut, and once they realized what lay before them, culture shock hit number ten! Many, many times the big jump was overwhelming—with old friends and family jeering them all the way with comments such as, "You'll be back. Lots of luck, you're gonna need it"!
The going was slow, but the education was steady. Each day presented a new situation that needed to be addressed, yet they were not alone. Many people helped answer their questions with genuine information based on experience and those people became the anchors of the new life deb and Greg kept returning to until they were able to get it together and see the light at the end of the ever-changing tunnel. After all the years, tears, and laughter, they are one hundred percent country dwellers and wouldn't have it any other way!
————-
From City Lights To Majestic View  is available direct from the author: darrsbeachcottage@msn.com