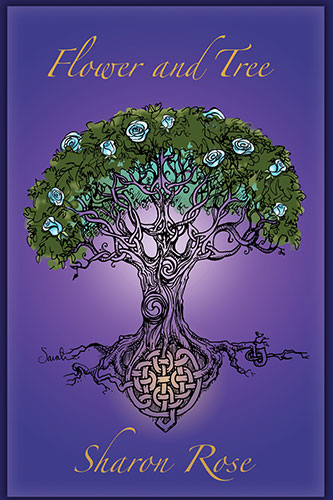 Flower and TreeCover-Rose, Flower and Tree
by Sharon Rose
306 pages; 6 x 9 inches
Paperback ISBN: 978-1-937493-90-5
Price $20 + shipping ($5.75 Media Mail; $7 Priority)
Flower and Tree
"Why did you do this to us? Why take dying and dead minds and force them on unwilling and random people?" Her voice did not rise, but the few physical items in the room began to shake, and the air took on a distinct smell of sulphur. "Why not just let us live normal lives? Why burden us with this?" Suddenly, the small chamber felt crowded as the rest of the twelve Pseudo-Reincarnated young men and woman appeared behind Cojiñí. So… she would need backup, perhaps?
Eventually It spoke. "I will tell you what I told those you host. Only Heaven, Hell, and their respective rulers are eternal, and even the Master of Lies and his domain shall yet fall under the sword of the One the Druids called the White God."
"Flower and Tree" is the first volume of the Azure and Emerald trilogy.
Paperback copies of this book are available direct from the author: sharonrose327@gmail.com
or ordered through independent booksellers
Paperback and eBook versions are available through www.amazon.com
From the early days of holding a pencil, to her current teenage years of typing novels, SHARON ROSE has been interested in sharing creative and engaging stories. As an avid reader, she is heavily influenced by modern and classical fantasy and science-fiction writers. Flower and Tree is her first finished novel, but by no counts is it the first started one. Sharon was born in Eugene, Oregon, three months early. Now she lives with two black cats, the younger of which she considers to be her own child, her sister, and her mother.