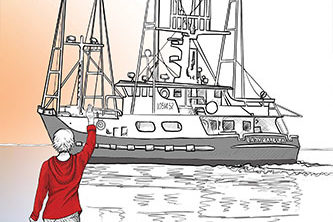 Fishing With Hyenas: Mathews-COVER-Front-FINAL
a memoir about love, loss, and adventures on a 92-foot fishing boat
308 pages; 6 x 9 inches
38 photos
Paperback ISBN: 978-1-937493-99-9
Price: $16.95 + shipping + tax for WA state residents
Ebook ISBN: 978-1-945587-00-9
Price: $6.99
FISHING WITH HYENAS is a love story between girlie girl Theresa and commercial fisherman Captain Bart, who convinces her to crew on a ninety-two-foot tuna boat plying the North Pacific Ocean. Trading cashmere and high heels for rain gear and rubber boots, she becomes a deckhand, confined for three months at a time, thousands of miles from anywhere. Bart's tight group of fishermen—the Hyenas—become her extended family, but no one explains what appalling weather and hauling thousands of pounds of tuna would do to her hands. Or to her heart. Or to her mind.
After nine months on the water, Theresa returns to life on land. But when Bart finds another tuna boat, he heads back out to Mother Ocean. "See you soon," are the last words he says to her. Three days later, Bart dies of a massive heart attack.
Grief, financial devastation, and a lawsuit follow, but it is the family of Hyenas who help her pull through. FISHING WITH HYENAS is the true story of how it all started and the tale of what happened next.
---
THERESA (DORSEY) MATHEWS grew up in Spokane, Washington. After college, she worked in several industries while searching for her professional calling. She stumbled upon a recruiting position in her early thirties and dropped anchor, knowing she had found her niche. She loved communicating with interesting people and getting paid to help them advance their careers.
She always liked to write, and applied that passion to her recruiting career. When she fell in love with Bart and he lured her to sea on a three-month fishing trip, she decided she would write a book about her adventures. And that's where the story, Fishing With Hyenas,begins. She worked on her memoir off and on for sixteen years. After Bart's death, the book changed course, adding another layer and different format. Her writing took a back seat to rebuilding her life but she was determined to finish the project and share it with the world.
Theresa reached the pinnacle of her recruiting career in January 2015 when she joined a highly reputable global consulting firm. Her job is to identify talent around the country using the Internet while working from her home office. She lives in the Pacific Northwest and enjoys the simple things, such as riding Harley Davidson motorcycles, spending time on and near the water, reading, traveling as much as possible, and cooking for family and friends.
---
Paperback copies of this book are available direct from the author:
Theresa Mathews: theresa@theresa-mathews.com
and through her website: http://theresa-mathews.com
Paperback copies and eBooks are also available through www.amazon.com