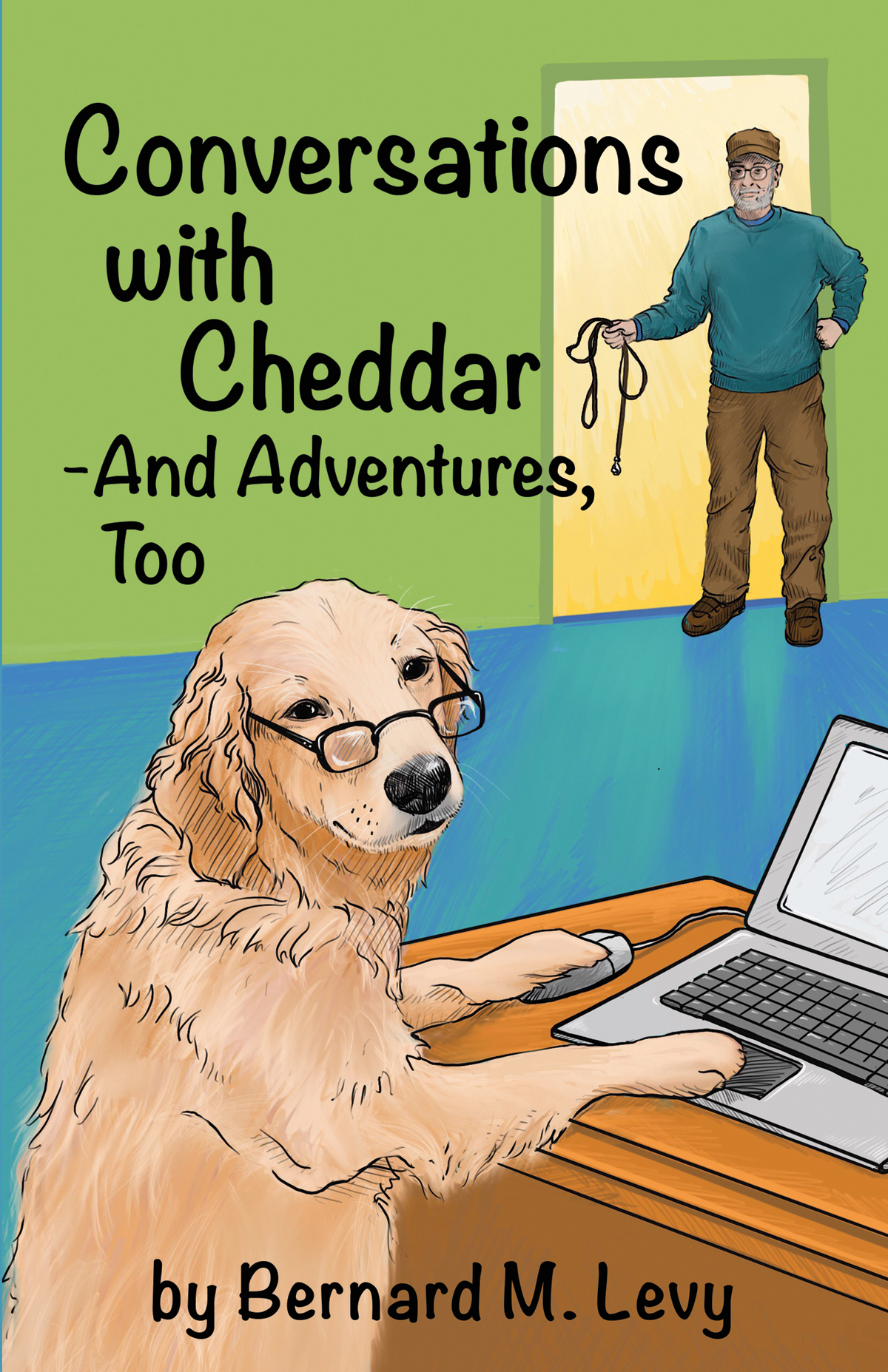 Conversations With Cheddar – And Adventures, Too
by Bernard M. Levy
154 pages; 5.5 x 8.5 inches
Includes 12 original line drawings by Sarah Gayle, who also created the cover
Paperback ISBN: 978-1-945587-01-6
Price: $16.95 + shipping
Excerpt from the book's introduction:
I wrote this book because Cheddar is family, and family is important to me… and to millions of others. My family in Oregon is Cheddar, my golden retriever. I hurt when he hurts, I laugh when he laughs, and I play when he plays. Yes, I do have a conventional family: a son and two grandsons who live in Seattle, and a son and his wife who live on the Yucatan Peninsula with, as I understand, a multitude of rescued cats and dogs.
Cheddar is my constant companion and a meaningful contributor to my wellbeing. We have grown to understand each other. He's taken me on some wonderful real and sometimes magical adventures and has, while fixating on moving cats and squirrels, caused me to lose my balance and hit the ground a half-dozen times, not always without injury. But he is my family, and we love, protect, and respect each other.
Living without another human biped in the household is, to me, a peaceful sanctuary in which I think and talk about some of the great issues and ideas confronting humankind. Cheddar listens to and absorbs these messages. He does it in a convivial way without registering any disapproval or offering any additional comment save, once in a while, expressing his desire for food or treats or a trip outside for fun, adventure, or normal functional relief. We who live alone at whatever age are a hardy breed, but we need these conversations. I usually come into daily contact with humans, but there are days in which I don't speak with anyone except Cheddar.
Conversations with Cheddar are not confined to the house or backyard. They occur during our walks in the forest, in the park, and in the running of our many errands. On these outdoor adventures, our talks cover many non-walk subjects, but every park and forest conversation includes the weather, squirrels, cats and dogs and their owners, trees, and other vegetation. Cheddar has contributed greatly to my knowledge of the outdoors and canines.
Although I dedicate this book to those who experience life with animal companions, I do not exclude others, including the millions of multi-biped families who love and care for pets. I hope this book will trigger greater understanding of the conversations with your live-in friends and, in turn, will broaden horizons and enrich relationships, both human and animal.
BERNARD M. LEVY currently hosts a weekly half-hour commentary radio program on KYAQ (91.7 FM) called "Everything in the World." He is working on his next two books: A Hindu and a Jew Walk Into a Forest, and Confessions of a Lawyer . . . and CPA.
Conversations With Cheddar—And Adventures, Too is available direct from the author: berlevy@charter.net