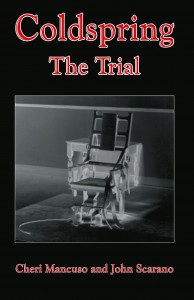 Coldspring: The Trial
by Cheri Mancuso and John Scarano
ISBN: 978-1-892076-79-3
Price: $17.95
Coldspring: The Trial is the second volume in a three-book series. Volume I contains the karmic history of three sets of double-murders on property near Coldspring, New York. This book begins where Volume I ended, in 1935, immediately after the double-murder of Bernice Kenyon Farnsworth and her husband Harry Farnsworth. Alfred "Freddy" Lindsay, the man who murdered them, is on the run driving Bernice's 1930 Chevrolet Sport Coupe. Lindsay is captured in New York City and brought back to Cattaraugus County to stand trial for murder in what became the "trial of the century."
Bernice Kenyon Farnsworth was the aunt of author Cheri Mancuso. The Coldspring books are based on actual events, trial records, newspaper clippings and family history. Coldspring: The Resolution will be available soon.
For additional info or to purchase paperback and hardcover copies: www.thecoldspring.com and coldspring@ix.netcom.com
Front cover photo of "Old Sparky" at Sing Sing Correctional Facility courtesy of the Ossining Historical Society.