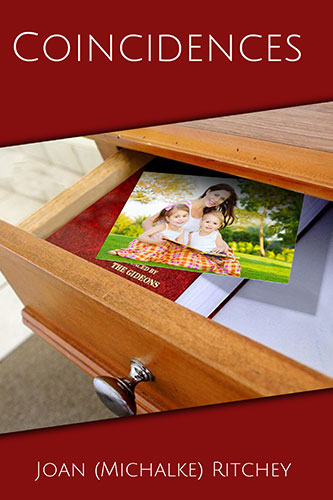 Coincidences
by Joan (Michalke) RitcheyCover: Ritchey, Coincidences
216 pages
5.5 x 8.5 inches
Paperback ISBN : 978-1-937493-82-0
Price $15.95 + shipping ($5.75 Media Mail; $7 Priority)
Ebook iSBN: 978-1-937493-83-7; Price: $7.99
Kathryn Carlson's gift to her granddaughter, Myndi, for her college graduation is an all-expense-paid road trip for Myndi and her dog, Ginger. It is Grandma Kate's wish that Myndi's adventure include numerous historic places throughout the Western United States. The gift is a trip Myndi's grandmother had always longed to take for herself. But a series of odd coincidences occur along the route that Grandma Kate helped Myndi plan—a journey that eventually leads Myndi to solve a secret that festered for a quarter of a century.
"Coincidences is a wonderful story about Myndi and her dog Ginger, and the summer vacation they take in Myndi's new red car, part of the graduation gift from her beloved grandmother. As they travel the USA, strange coincidences confront Myndi and she sets out to discover the reason for her mysterious connection to absolute strangers. I enjoyed this book and eagerly read on to see how Myndi's journey turned out. I found myself getting attached to the characters and even choked up at the ending. This book is a great road trip adventure."
—Karen L. Wagner, Guest Editor
Joan Ritchey is also the author of:
From Him… Through My Fingertips (AuthorHouse, 2008)
The Brooch, a Novella (Dancing Moon Press, 2012)
Captured Reflections (Dancing Moon Press, 2015)
PAPERBACK copies of both all books are available direct from the author: rlakehs@charter.net
The eBOOK versions are available through AMAZON and iTunes