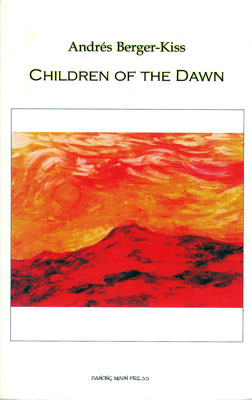 Children of the Dawn
a novel by Andrés Berger-Kiss
ISBN: 1-892076-06-3
Price: $12.95
Andrés Berger-Kiss has written over thirty publications. He is co-author of the 1994 film script for "The Sharpener" based on his prize-winning short story. Other stories have appeared in Best Latino Short Stories of the Decade, published by the University of Houston, and Best International Short Stories, published by Europa Press in Budapest. Planeta Editors in Colombia recently published the Spanish version of Tomorrow's Promise. His novel, Don Alejandro, written in Spanish, was published in 1996. His most recent book is the bilingual collection of poems, Voices from the Earth.
The Spanish version of Children Of The Dawn.
Additional information: The Sharpener and Other Stories, Latin American Literary Review Press.