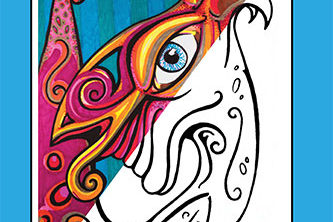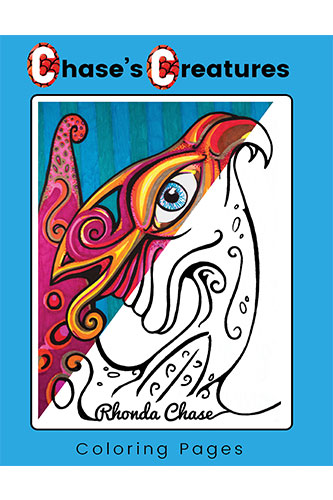 Chase's Creatures Coloring PagesChase's Creatures Coloring Pages by Rhonda Chase. Published by Dancing Moon Press.
by Rhonda Chase
64 pages; 8.5 x 11 inches
Paperback ISBN: 978-1-945587-04-7
Price: $11.99 + shipping
CHASE'S CREATURES COLORING PAGES is a 64-page book with 30 full-page of creatures. Each page is perforated, allowing easy removal of each creature from the book so you can color in comfort and even frame and gift your finished masterpieces. On the back of each page is an area for you to write your name, the date, and medium used. The back cover features colored creature examples from winners of The Chase's Creatures Coloring Contest.
Creature Coloring
You'll find hours of relaxing artistic expression in Chase's Creatures Coloring Pages book. De-stress, self-express, and stimulate your creative right brain as you immerse yourself in the wonderful, whimsical world of Chase's Creatures. Useful for:
Plein Mind drawing
Coloring Therapy
PTSD-Alternative therapy
Meditation
---
RHONDA CHASE was raised in the small, isolated, California mountain town of Susanville, Rhonda Chase ached to spread her wings. At the tender age of three, she told her parents she was moving out! It took her fourteen more years and lots of summer school, but she finally earned her freedom, graduating high school a semester early.
She enrolled at Hollins University in Roanoke, Virginia, but only was able to afford one semester of study. Returning home to California with little besides debt, Rhonda worked odd jobs trying to find her way. She tried moving to Sacramento, but with only a high school diploma, minimum wage, part-time positions were all she could find. Between the severe lack of resources, and domestic abuse perpetrated by her then boyfriend, Rhonda found herself homeless and in need of a new start. She ended up joining the Army in 2002 and trained as a cook. She served primarily at Fort Lewis, Washington, until she was deployed to Iraq in 2003. She spent five months overseas, returning with severe mental and physical disabilities due to the living and working conditions.
After an honorable discharge in 2004, Rhonda struggled to manage her disabilities by herself, attempting to get work as a cook back in Susanville. Unable to work in a traditional environment, she turned to the VA for help. Looking for something she could turn into a functional career, Rhonda explored the idea of teaching art at the college level. She had loved drawing her whole life and, remembering her success in an art class during her one semester at Hollins, she convinced her reluctant VA counselor to enroll her in an art program. She obtained her bachelor of arts at Northwest Nazarene University of Nampa, Idaho; however, the VA deemed her disabilities too severe to be able to teach, so she was denied funds for the MA it would have taken to obtain a teaching position. Thankfully, Rhonda found her true path while attending art school, and while unable to hold down traditional work, she is able to do what she loves and share it with the world.
---
Paperback copies of this book are available direct from the author:
rhonda.renee.chase@gmail.com
and through her website: http://www.rhondachase.com/
And at www.Som1store.com