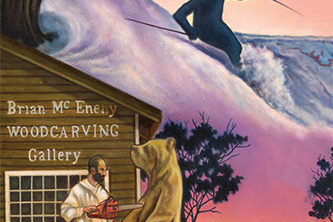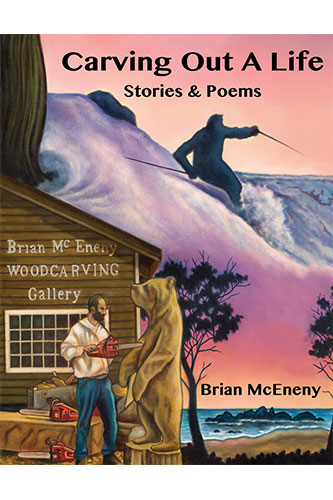 Carving Out A Life"Carving Out A Life" a flip book by Brian McEneny, published by Dancing Moon Press
Section 1: Stories And Poems (with color and black & white photos)
Section 2: 40 Years of Chainsaw Sculptures (all full-color photos)
A flip book by Brian McEneny
324 pages (152 full color; 172 black & white)
8.5 x 11 inches
Paperback: 978-1-945587-19-1
Price: $45 + shipping
Section 1:
This book started out as a collection of poems written in my youth. The poems follow my journey as an aspiring ski professional in search of the never-ending party and good snow. Since all the poems were written 40 to 50 years ago, I've added backstories to give the reader a sense of what was going on in the world at that time. I've also included a few stories about being a ski instructor and pro patrol, and how those incidents impacted my life and influenced these writings.
The journey began in high school in Portland, Oregon, and on Mt. Hood where I started working as a ski instructor and professional ski patrol, moving on to skiing jobs in Idaho; Lake Tahoe; and Montana before a severe and reoccurring knee injury ended the lifelong dream of being a professional skier. This book is not intended to be a complete autobiography—it's a snapshot of a specific 13-year period that started at the age of 16 (1965-1978). And instead of keeping a traditional journal to chronicle events, I wrote fictional and nonfictional poetry and prose, translating various experiences and observations. At the age of 29, the writing stopped because I just ran out of things to say. When I was unable to work as a professional skier, I floundered for a while until finding my true love and calling as a professional chainsaw carver. The second half of this book features my work as a chainsaw artist over the last 45 years.
SECTION 1 CONTENTS
Introduction
Chapter 1: My Love of Skiing Started Young
Chapter 2: My First Poems
Chapter 3: First Full-Time Ski Job
Chapter 4: Second-Year Pro-Patrol Ski Bowl 1968-1969
Chapter 5: Moving To Grand Targhee
Chapter 6: Back In The Northwest
Chapter 7: My Divorce is Final
Chapter 8: The Ratskeller
Chapter 9: My Last Season On Mt. Hood
Chapter 10: Exploring Tahoe
Chapter 11: Living Lake Tahoe
Chapter 12: Montana Bound
Chapter 13: Newport—My New Home
Chapter 14: Find Your Passion, Cultivate Your Dreams
A young ski instructor's career is ended by injuries. Over the next 40 years, he carves out a new life as a chainsaw sculptor on the Oregon Coast.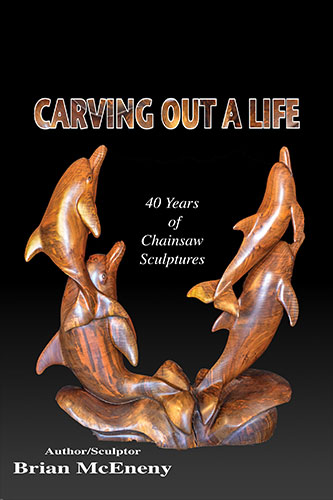 SECTION 2 CONTENTS
First Chainsaw Carving
Sculptural
Tables
Wall Pieces
Sea Serpent
Seals & Sea Lions from the 1990s
Whales 1980s and 1990s
Early Work from the 1980s