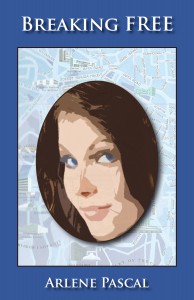 Breaking Free
by Arlene Pascal
199 pages: 5.5 x 8.5 inches
eBook: 978-1-937493-29-5
Price: $2.99
As a woman approaching her middle years, Janet Ballenger was content as a wife and mother, until the women's movement of the 1960s brings a sense of excitement and wonder into her life. Although she's older, and on the fringe of these years, she watches her daughters take advantage of this new society through education and business, while enjoying the freedom to be on an equal level with men. Her husband, Martin Ballenger, is unable to accept this generational change. When his daughter, Mavis, marries a non-Jew, and Janet takes a job as a real-estate agent without his approval, he allows himself to become consumed by his business as a way of coping.
Janet, in her eagerness for adventure, takes off to Paris with a friend and soon discovers that other women are also questioning their life experiences in this new world of free thought. When two clients mention their interest in the purchase of second homes in Israel, Janet agrees to make the trip to see firsthand what is available. She had planned to be gone only a few days, but she extends the visit each time she phones home. Unexpectedly, those weeks abroad open up emotions that cause her to make a daring decision with little thought to possible consequences.
(excerpt from Prologue)
"Martin Ballenger drummed his fingers on the kitchen table as he drank his morning coffee and tried to concentrate on the front page of the Chicago Tribune. He had thought about this trip to the airport for days, looking forward to it and dreading it at the same time. He wondered if his wife was actually returning home today, or would he sit up there in the arrival lounge watching and searching the faces, but not see her among the throngs of passengers pouring into the baggage area. She had called several times and kept extending her trip, and now he wasn't sure if today's plans were definite. Something was going on that obviously he knew nothing about. His wife, Janet Ballenger, had gone off to Israel weeks ago in search of vacation homes for two of her clients. She had planned to be gone for only a few days. But the days turned into a week, then several weeks. He was convinced she had changed in that short span. He sensed it in her voice. He felt it in the pit of his stomach."
Another book by this author is "Deadly Prayers" by Pascal Littman.
eBooks are available on Amazon, Barnes & Noble, Kobo, and the Apple iTunes Bookstore