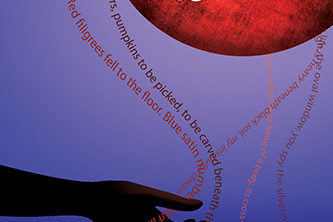 Blood Moon WeatherMiller-Cover-Front
by Margaret Gish Miller
66 pages: 6 x 9 inches
Paperback ISBN: 978-1-937493-89-9
Price $15 + shipping ($5.75 Media Mail; $7 Priority)
"Feelings aren't enough. Hurt's better. And with Miller's poetry, she might have been listening to W.B. Yeats who talked much about 'being hurt into song.' Surely she is. Not an ounce of posturing or glibness in these poems. Miller's mature voice sings with urgency and distillation of those formative years that shape all our lives. She quotes William Faulkner to make the point: "The past is never dead. It's not even past." The poems in this book are a story about two sisters whose love for one another is all that keeps them afloat. But the reader has to be brave to go in here, to enter her adolescent terror. This is the kind of poetry you have to pull out of, look away from . . . breathe a little. It's that good."
—Tom Crawford, author of Lauds, winner of the Oregon Book Award for poetry
JELLYFISH
Like lingerie
suspended in
space inside
an aquarium
their pastels delicate,
soft as roses with thorns.
For they say jellyfish
have no heart and
sting in self-
preservation, a part
of their seductive
water dance.
I must have
had the heart
of a jellyfish
at twelve.
For that man, in his
fisherman's fascination,
caught me. Kept me
as his own. And I
repeatedly stung
myself for this.
This debris
of my heart so sore
I soar into this space
and time
to gather the girl
that was you.
Paperback copies of this book are available direct from the author: margaretgishmiller@msn.com
And through www.amazon
or ordered through independent book sellers
MARGARET GISH MILLER, born in Palo Alto, California, in 1946, lived, worked, and taught in the San Joaquin Valley for over 30 years. At Fresno State, she earned a BA in Sociology, an English Teaching Credential, and an MA in English Literature. Now retired, she and her husband, Ron, live in Wauna, Washington. Her poetry has been published in The Paterson Literary Review; Poets&Writers, To Topos, an International Journal, Verseweavers, Pyrokinection, Oregon Poets Speak of their Sisters, and elsewhere. "Blood Moon Weather" is her first collection of poems.
This entry was posted in Catalog, Recent Releases and tagged memoir, poems, poetry on March 22, 2016.