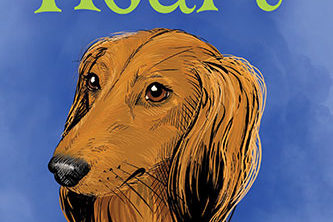 A Paw Print on My Heart"A Paw Print On My Heart" by Terrill Godrich, published by Dancing Moon Press
by Terrill Godrich
124 pages; 8.5 x 5.5 inches
Paperback ISBN: 978-1-945587-09-2
Price: $15 & shipping
eBook ISBN: 978-1-945587-10-8
Price: $6.99
Bailey was seven weeks old when she came into my life on February 18, 2003 and changed my life forever. I had always loved dogs and owned them my entire adult life, but never as a single person. My family had owned a few dogs when I was growing up in four African countries, but never for long. Bailey, a long-haired Dachshund, became my best friend, my companion, and my confidant over a nine-year period. My world revolved around hers, and her little world revolved around mine. It was a love match!
Over the last four years since Bailey's passing, I have pondered the depth and degree of my love for her. Is it because I was never a mother and therefore had an inordinate amount of love to devote to a dog? Or was it simply two souls connecting on an undefined level? Can a human being and an animal be "soul mates"? Some say that animals don't have souls, and that they don't go to heaven. That simply cannot be true. In my world, dogs — more than many humans — deserve a place in heaven. When you look into the eyes of a beloved pet, you can see their soul. Doesn't a dog's unconditional love and devotion feel like pure heaven itself? If dogs don't go to heaven, then heaven is no place for me!
I have learned that a human heart does not break although sometimes it shatters into a million pieces. Each walk without her was a shard. Each room she was no longer in, each chair she wasn't sitting in, every car ride without her, was a small broken piece of my shattered heart. Every Friday evening at 9:05 p.m., I lit a candle for her and put my hand on her ashes. I always said, "My heart to yours."
——————-
Terrill J. Godrich was born in Lagos, Nigeria, and spent the first eighteen years of her life in West, East, and South Africa. She is from Leicester, England, where her family spent summer holidays until her father's passing, at which time the family moved back to England. She currently resides in Oregon, and has spent more than thirty years living in the United States, on both the East and West coasts. She has also lived in Greece, and of course, in her beloved Italy. She has yet to get another dog.
"A Paw Print On My Heart" is available direct from the author: terrillgodrich9@gmail.com