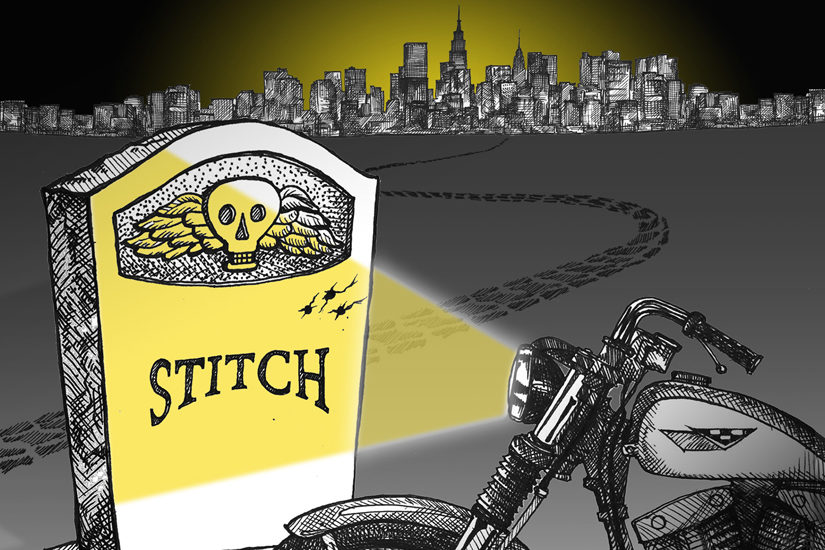 A Collection of Bummer SummersCover-Bargain, A Collection of Bummer Summers
by Johnny Bargain
illustrations by Sarah Gayle
148 pages: 5.5 x 8.5 inches
Paperback ISBN: 978-1-892076-08-3
Price $20 + shipping
($5.75 Media Mail; $7 Priority)
Stitch, maybe you don't remember me, but when you guys were hanging around the Victory Diner at the Point, I would ride by and have dinner there, and then go scooting around in the street. It was your old man, Tom, who taught me how to ride. He rode a blue Electra Glide back then. He was a union carpenter working in a theatrical local in Manhattan.
The day I bought my first Harley-Davidson 45 your old man said, "Okay, kid, fall in behind me. I'll show you how to ride." So I rode behind him, following wherever he went, which turned out to be the Jersey Shore. Once there, we got totally fucking drunk. Shit-faced. We tried to leave, but a six-volt kick-start, coupled with alcohol doesn't make for a quick getaway. As you know.
I followed your old man as we attempted to get back home. The road made an abrupt left, but Tom didn't and he ran that Electra Glide right between some hedges, onto the lawn where a garden party was going on—people all around, loud music, cold drinks. And he was stopped right there, stuck in the hedges. The party guests thought it was hilarious. They were just as drunk as he was but they got him pushed around on the lawn and back on the road again as the police arrived. The only thing the police were concerned about was getting us out of town. They mentioned we were just a half a mile from the city line and that they'd gladly made sure we got safely over that line. I don't remember much of the trip home, but I made it in one piece. At least I didn't wreck the bike.
Chaos cluttered the streets of New York City back then, which in the 1960s was all about Burn, Baby, Burn, especially in the ghetto neighborhoods where buildings were being incinerated. The cops were pigs. Revolutionaries were stirring up trouble on the Lower East Side. Squatters moved in everywhere. Lots of heroin was going down. And the French Connection was strong. The city was a place where nobody gave a rat's ass about anybody but themselves.
So begins the story of "A Collection of Bummer Summers."

---
COPIES of this book are available through Amazon.com
And direct from Dancing Moon Press: info@dancingmoonpress.com.
They can also be ordered through most independent book sellers.