Hankering For The Way It Was: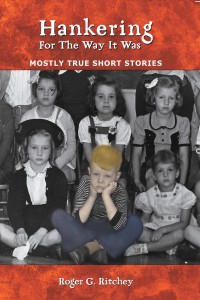 Mostly True Short Stories
by Roger G. Ritchey
320 pages: 6 x 9 inches

Paperback: 978-1-937493-44-8; Price $16 + $4 Media Mail; $6 Priority
Hardcover: 978-1-937493-45-5; Price $24 + $4 Media Mail, $6 Priority
eBook: 978-1-937493-46-2; Price: $6.99

"This book is about me trying to grow up on a large farm during the 1940s and 1950s. It is about the dangers, the losses, and some of the fun, too. I loved my dogs, my 1949 Red Ryder BB gun, my genuine four-strand lariat, Saturday's double-feature movies, and the joy of trying to keep my hardworking dad awake in church. " — Roger G. Ritchey
Roger Ritchey was born and raised in Forest Grove, Oregon, and still resides, at 73-years old, less than one mile away from his boyhood farm. He is a 1963 agricultural graduate of Oregon State University. He enjoys compiling kid-time memories from his journals. His stories relate encounters with humans, hogs, and dogs, although the reader will notice a tendency to get them mixed up. Almost thirty years of his professional career was spent preparing written rural property appraisal reports. He enjoyed the portion of the report that related to the 'Highest and Best Use' of the property, thereby aiding the client. Late in life, Roger learned he simply had to write.
eBooks available through Amazon
Paperbacks available from the author at
Roger G. Ritchey, 3005 NE East Devils Lake Road, Otis, OR 97368; rlakehs@charter.net